Recently AYAC submitted a response to the Joint Select Committee on Cyber-Safety inquiry into cyber safety issues affecting children and young people.
We are pleased to announce the committee will be consulting directly with young people, and have created a survey to that effect....
AYAC believes cyber safety policy concerning children and young people should be based on effective approaches using evidence base, youth participation and capacity building with  communities rather than hype and assumption regarding  potential risks.
One of the recommendations AYAC made to the committee was that children and young people be directly engaged to share their experiences and help develop relevant solutions to cyber safety.
We are therefore pleased to annouce the Joint Select Committee on Cyber-Safety is now conducting an online survey of Australia youth aged 5 - 18 years to gain insight into their experiences online.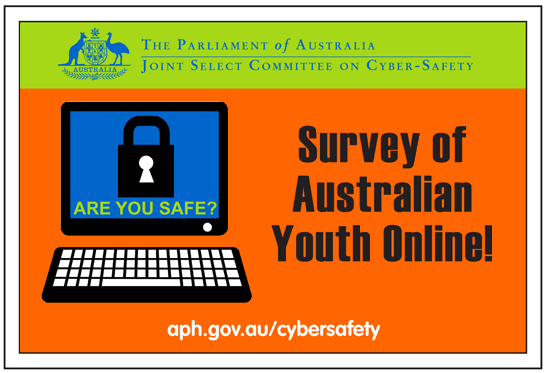 The survey will be live until Wednesday 27 April 2011. The survey is available at www.aph.gov.au/cybersafety.
To ensure the survey is audience appropriate, the Committee has developed two similar questionnaires: one for 5-12 year olds and one for 13-18 year olds. The survey is completely anonymous.
The Secretariat has also created a suite of resources, which can be accessed on http://www.aph.gov.au/house/committee/jscc/download/index.htm
If you have any questions about the youth survey or the opportunity to provide submissions to the committee's ongoing inquiry please contact the Committee Secretariat on (02) 6277 4202.