AYAC 2013 Conference Program Updates
AYAC 2013 will be epic.  Here's why.
The AYAC 2013 conference team will be pulling together a broad range of speakers, presenters, thought-leaders for an amazing three days with 400 youth affairs sector representatives from across Australia.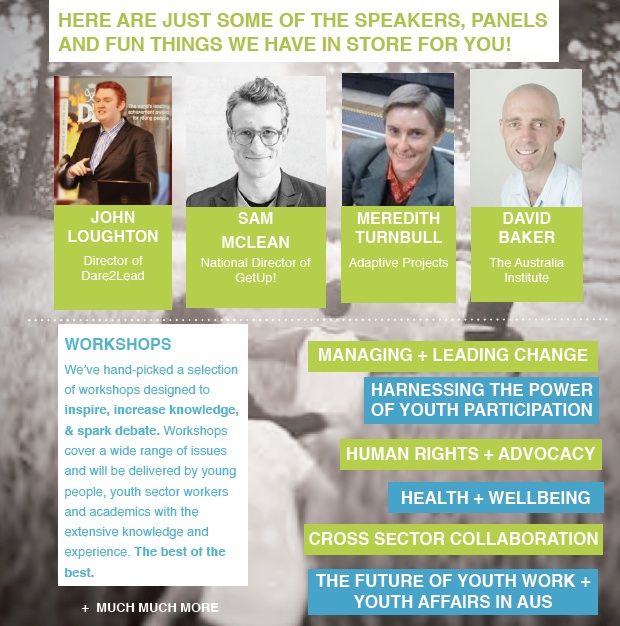 AYAC 2013 National Youth Affairs Conference is kicking off in 10 days, and we're pleased to announce our THIRD program release - which you can view here: http://www.ayac.org.au/uploads/AYAC_ConferenceProgram2013_WEB.pdf
Do you have tickets yet? Because AYAC has built an inspiring and informative program featuring over 50 participant focussed workshops, keynotes, and panels:
Hear from the secrets of success from OurSay's CEO on getting the attention of politicians.
Are you a leader (of any age!)? Take away tools to better understand and diagnose challenging issues, learn techniques for managing and leading change, and techniques for building and sustaining strong teams.
Explore cutting edge research on the impact that formative work experiences have on how young people understand their workplace rights and responsibilities, the extent to which they can enact these, and how they anticipate their future employment relative to other life domains.
And so much more. We've got the best of the best, with workshops + panels designed to increase your knowledge, spark debate, and inspire you across areas such as:
homelessness and housing,
mental health,
rural and remote young people,
education,
employment,
youth gangs,
youth engagement and participation
creating change
youth justice
sector developent
human rights and advocacy
technology and young people
Ticket sales CLOSE Thursday, 1st August - don't miss out as AYAC's conferences are only held biannually (and we really hope to be here to hold the next one!)
AYAC 2013 - Program Second Release - Register now! http://ayac2013.eventbrite.com.au/
Second release of AYAC2013 is now live! Check out a full list of our workshop presenters, workshop descriptions and timetable!
We've locked in some superb keynotes and panels, featuring talent such as:
John Loughton // International Keynote, Director of Dare2Lead
Viv Benjamin //CEO, Oaktree Foundation
Adam Pulford // 2013 Australian Youth Representative to the United Nations
Sam McLean // National Director, GetUp
Sara Saleh // Media and Public Affairs Coordinator, Amnesty International Australia
Meredith Turnbull // Adaptive Projects
Lauren Moss // Coordinator and Co-Founder, SkinDeep
David Baker // Director of Research, The Australia Institute
Jo Taylor // Strategy Manager, Dusseldorf Skills Form
With more to be announced!
AYAC 2013 - Program First Release
AYAC is pleased (and quite proud) to announce the first release of the program for the AYAC 2013 National Youth Affairs Conference. We've also extended our 'Early Bird' rates in celebration of this release - so register now: ayac2013.eventbrite.com.au !
Our program across the three days is jam packed full of action, fun,  adventure and discovery. Follow the links below to find out what we've started planning:
Day One - Build Youth Participation | Day Two - Advocate for Change|Day Three - Support the Sector / Drive Research for Better Practice
Click here for the full program preview here (PDF)
AYAC 2013 - Program Structure
We've come up with a program structure that will have something for everyone attending, from young people who are interested and active on the most pressing social issues facing young Australians, through to youth service workers and managers and those of you interested in getting young people involved in every part of Australian life.
Applications are still rolling in for conference presentations and we're slotting the best of the bunch into the program structure as we speak - so the first batch of announcements will be posted on this page in the coming week or two.
n.b.  Things change... People change... Our program could change without notice.
The AYAC 2013 Conference Program will bring together all the areas of interest that the Australian Youth Affairs Coalition touches on in our work every day on behalf of the national youth affairs sector. So, we thought it'd be a good idea to link the conference structure to the way we strategically organise our work - through the AYAC Strategic Plan.
The major themes of our Strategic Plan will be the themes of AYAC 2013:
Day One -

Build Youth Participation - plenaries and other sessions on this theme will focus on building the participation of young people in decisions that affect them, including they way that services are provided to them, how they participate in decisions now that will shape Australia's future and taking part in topics not traditionally seen as youth issues during the election.

Day Two -

Advocate for Change

- plenary sessions on this day will focus on achieving change on the most important of the youth issues contained in the AYAC Policy Platform. The day will involve panels of ministers and members of parliament to discuss what needs to change. We'll also be inviting national media - so make sure you look schmick!

Day Three -

Support the Sector / Drive Research for Better Practice

- this day will focus on developing the skills and knowledge-base across the youth affairs sector, showcasing the best work and research in the sector, and even looking at how we can support the sector to take care of itself. Expect a whole lot of youth sector love in the room!
You can also download a full version of the program first release - click here (PDF - 3mb)
While we're in Adelaide, we couldn't resist the opportunity to showcase the great things happening in South Australia, from local young artists and performers being featured during the down-time in the program, and possible visits to local youth services organised by our friends at the Youth Affairs Council of SA!
You should also check out our Come & Explore (r)Adelaide page for more info and ideas on what to see and do, where to stay and how to get there!
This page will be updated weekly with new information, so keep coming back here to be sure you're in the loop as conference program news is released!